FILTERED CIGARS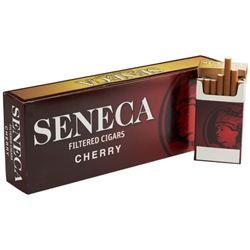 Filtered Cigars come in 10 packs of 20 cigars each in a carton, just like cigarettes are packaged. Buy filtered cigars online has never been easier or more affordable! They're perfect to take on the go or enjoy at home. Most brands come in box or soft pack.

With a smoking experience that is similar to that of premium cigars, along with a low price tag, filtered cigars are fast-growing in popularity among many smokers. The cost of cigarettes has shot up drastically over the recent years, but filtered cigars have stayed at a perfect low price to fit every budget. Filtered Cigars are wrapped in a natural tobacco leaf instead of a chemical-filled and bleached paper.

Filtered Cigars are not cigarettes, but many smokers enjoy them just as much, if not more! Especially with a low price tag that all smokers can appreciate. Check out our top selling brands like Richwood, Cheyenne, 752, Seneca, and more!

Check our website every week for updated specials on discount filtered cigars.