Red Buck Filtered Cigars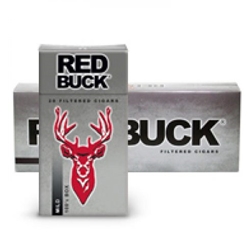 NOTE: Red Buck Filtered Cigars have been discontinued by the manufacturer. We highly recommend switching to Richwood Filtered Cigars as they are made by the same company.
Manufactured with high quality tobacco in the USA, Red Buck Filtered Cigars are available in 9 different flavors.

Red Buck Mild filtered cigars as well as Full Flavor and Sweet varieties are all bestsellers. For a change of pace, try refreshing Red Buck Vanilla filtered cigars or other awesome flavors like Strawberry, Cherry, Peach and Grape at discount prices!

Red Buck is "America's Outdoor Cigar" and is made with high quality tobacco. Here is what one customer said about Red Buck Mild:
"I wish I had switched years ago. I've told all my smoking friends about them but I don't think they believe me, which is their loss. And, of course, I very much like the price."