Richwood Filtered Cigars
Desire for a rich, affordable smoke? Fulfill it with Richwood Cigars!
What to expect when premium toasted Kentucky tobaccos are rolled inside homogenized tobacco leaves? You get something like Richwood Wild Cherry Filtered Cigars that are full in taste and pleasant in aroma. You also have the option to try other Richwood flavors like Wild Cherry, Menthol, Vanilla and Peach.
Slow and evenly burning, these cigars are absolutely superior to cigarettes. Exclusively low price tags make the extraordinary Richwood Grape Filtered Cigars and other varieties truly valuable. Order your box for fast shipping today.
Richwood Filtered Cigars are our best selling and most popular brand! Richwood Filtered Cigars are little filtered cigars made with a blend of premium toasted Kentucky Burley cigar tobaccos and wrapped in a homogenized tobacco leaf wrapper. The special blending of cigar tobaccos produces a distinctive taste with a smooth finish and pleasant aroma. Many customers prefer Richwood Little Cigars to cigarettes and have compared them favorably to popular cigarette brands such as Seneca!
Richwood Full Flavor Filtered Cigars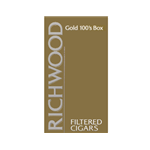 Richwood Gold (Mild) Filtered Cigars
Richwood Menthol Filtered Cigars

Richwood Vanilla Filtered Cigars
Richwood Wild Cherry Filtered Cigars