Seneca Filtered Cigars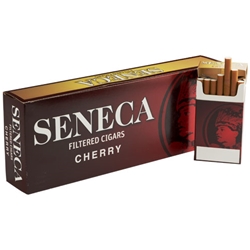 Formerly known as Seneca Sweets. The sweet is in the filter NOW. IT MAY TASTE DIFFERENT THAN WHAT YOU ARE USED TO!!!!!
ALL SENECAS COME IN BOX NOW TOO!
Seneca Filtered Cigars – Awesome Flavors Packed in Little Cigars
Whole leaf premium tobacco rolled in all natural Seneca filtered cigars for an irresistible smoke. Buy Seneca Menthol Filtered Cigars, Seneca Vanilla Filtered Cigars and other bestselling flavors of wildberry, cherry, grape, strawberry and peach at guaranteed low prices at our store.
We recommend the beginners to try Seneca Light Filtered Cigars and develop affinity towards the popular brand which is the choice of millions. The flavored tip and mild sweetness of these cigars will keep you elated for hours.

Seneca Cherry Filtered Cigars

Seneca Grape Filtered Cigars

Seneca Light Filtered Cigars

Seneca Menthol Filtered Cigars

Seneca Natural Filtered Cigars

Seneca Peach Filtered Cigars
Out of stock but call us to be sure

Seneca Strawberry Filtered Cigars
Out of stock but call us to be sure

Seneca Sweet Filtered Cigars
Out of stock but call us to be sure

Seneca Vanilla Filtered Cigars