Black and Mild Cigars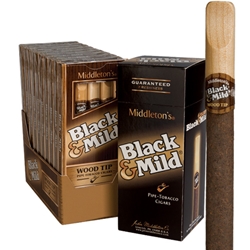 Founded in 1856, John Middleton's tobacco has always been a best selling, household name for tobacco for generations. In the 1980s the company was experimenting in different tobacco blends and discovered a unique and aromatic pipe tobacco blend. Eventually, they used it in a cigar and the famoun Black and Mild was born. The idea of this was the convenience of smoking pipe tobacco without having to pack a pipe.
Each of these Black and Mild machine made cigars are stuffed full of aromatic Cavendish, Burley, and Virginia pipe tobaccos, sealed in perfectly designed binders and bundled up in a homogenized pipe tobacco wrapper.
These delicious smokes are a unique alternative for pipe tobacco smokers who want the pipe experience packaged nicely in a cigarillo format with a filtered tip. Perfect to take on-the-go, these little cigars are made popular on the market by cigar lovers everywhere appreciate a good quality machine made cigar for a budget price. BuyDiscountCigars offers a variety of mouth-watering flavors for you to choose from. Place an order today and you'll have fresh product delivered right to your door with fast shipping!