Noble Filtered Cigars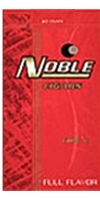 Noble Filtered Cigars are a value-priced brand made in India.
One customer said this about Noble Lights:

"Wonderful oriental tobacco! I have had pure Turkish a couple of times, which was excellent, but not as rich as this. Every time you put one in your mouth, you smell the rich aroma of this tobacco. I'm someone who usually smokes untralights, but these are so mild I don't need a filter at all."
DOH!!!!


WE MADE A MISTAKE SOMEWHERE>> SORRY ABOUT THAT PLEASE PRESS THE BACK BUTTON OR CLICK OUR LOGO!!!!