BlackStone Cigars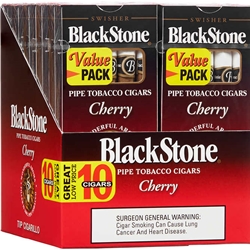 There's something for everyone packed inside this machine-made cigar!
Blackstone cigars deliver a smooth, mellow, and satisfying profile with an indulgent cherry flavor. This cigar is made entirely from pipe tobacco so you get the luxury of a pipe smoke with the convenience of a cigar. Perfect to take on the go and enjoy during a work break, on a long car ride, or just relaxing on a patio after dinner. Made in the USA and at a price that's just right, you can't beat the value of this unique cigar.
Place your order with BuyDiscountCIgars today and you'll be stunned by our fresh products and fast shipping!