Swisher Sweets Cigars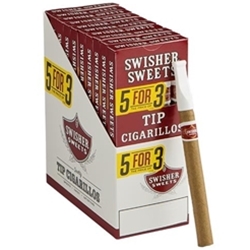 Founded by David Swisher in the late 1800's, Swisher continues to be at the forefront of new product development, offering new varieties of cigars and cigarillos every year. Swisher's parent company, Swisher International in Jacksonville Florida now accounts for a whopping 1/3rd of cigar and tobacco sales in the United States!
Swisher Sweets are among the most popular bestselling machine made cigars on the market today. These machine made cigars are a unique blend of quality tobaccos and special flavorings that produces a very mild, sweet tasting, satisfying smoke. Swisher Sweets are machine made catering to all types of cigar smokers-from the casual to seasoned connoisseurs.
With low prices and fast shipping, buying Swisher Sweets online with BuyDiscountCigars is an easy decision. You'll receive fresh cigars at super low prices!