Drew Estate Natural English

Size: 6 x 52
Wrapper: Colorado Maduro
Binder and Filler: Brazil, Cameroon, the Dominican Republic, Haiti,Honduras, Indonesia, Italy, Mexico, Nicaragua, Syria, Turkey, and theUnited States
Strength: High Mild to Medium
Price: 
$123.99 only at BuyDiscountCigars.com
Behind The Stick:
For those who are living under a rock - Drew Estate ( best known fortheir Acid line of infused cigars ) has been pushing their "Rebirth ofCigars' slogan for quite a while and I have to admit, some of thesecigars have actually been really good! The Natural series is a totallydifferent type of cigar, the English in specific is a blend of tobaccosfrom 12 ( yes, twelve ) different countries, Brazil, Cameroon, theDominican Republic, Haiti, Honduras, Indonesia, Italy, Mexico,Nicaragua, Syria, Turkey, and the United States.
While these cigars do carry the "Natural" tag line, there is anintensity of certain flavors ( vanilla, chocolate, coffee, etc ) thatmay lead one to believe they are actually an infused cigar but to theirsurprise - as the name suggests these are 100% 'Natural'. While the DrewEstate website itself does not contain any information the cigar,sometimes just knowing a little bit about the cigar brings out anentirely new and unexpected response. Lets see if this mixture of 12tobaccos produces something amazing or if it is more like a childcooking dinner!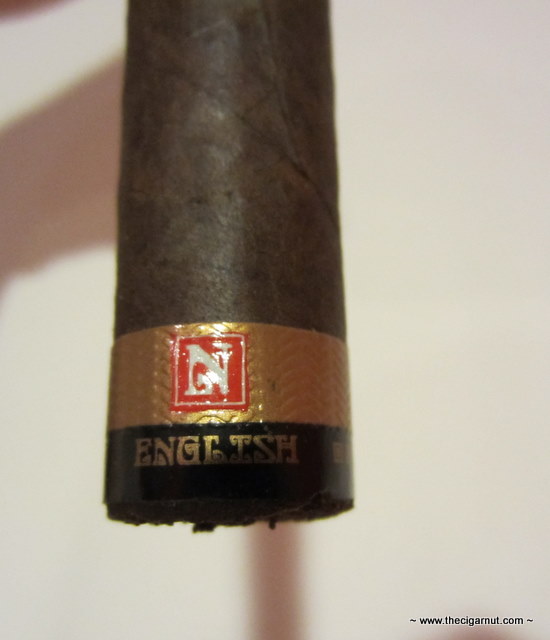 Construction:
I would not say that this cigar is going to win any beauty contests butat the same time, this is far freom the worst on the market. The DrewEstate Natural English has but a few veins running the length of thewrapper and the cigar itself was filled evenly from head to foot withonly a little bit of give in the middle. The head clipped like a champand although I felt I may have cut in a bit deeper than one should - thecigar never unraveled. The foot took to flame just as it should, theband removed right at the right time and the smoke production of thisthing was second to none. All in all - I'm very happy.
Flavor:
As I eluded to before, some fo the flavors that you are going toexperience with the Natural English might make you stop for a second andseriously consider if this is an infused or natural cigars. INtense andrich flavors of vanilla, coffee and cedar wood are right in your facefrom the start while the head of the cigar gives this sweetness I couldreally sense when licking my lips. This sweetness kind of reminded me ofthe Blondie or Kuba Kuba from the Acid line.
An increasing level of spice - Cinnamon, Vanilla, Leather, Coffee andjust a dash of earth all mix into one healthy and balanced flavorprofile that continued to catch me off guard puff after puff. Some ofthe pepper spice decided to hang around for a little while the smokeitself took on a creamy sensation that beconed a little more liquid togo with the cigar.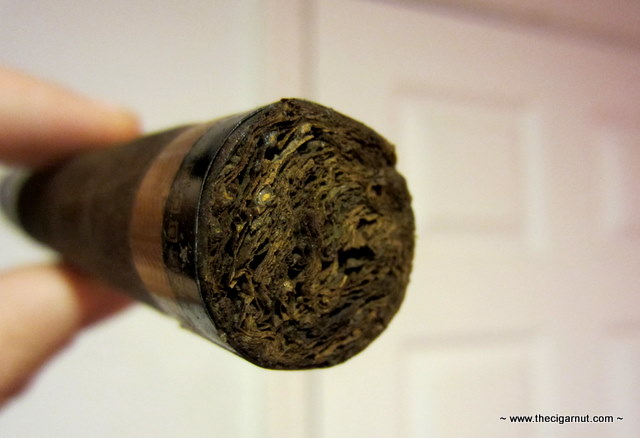 Overall:
Infused cigar smokers are a tough and niche market to secure and onceyou have done so - it is very hard to break away from that mold. ACIDhas done an excellent job at locating and providing these smokers withthe cigars they desire but within the Drew Estate 'portfolio' they haveextended beyond this stigma, prodcing the Natural line. The Drew Estatecompany has been explaining - and now showing - everyone that they canproduce some very unique, flavor and well priced 'real cigars' that cancreate some serious turbulence within the cigar market without usingtheir infused techniques. The "Rebirth of Cigars" has taken this notionand ran with it - the Natural English ( in my opinion ) could have been aboasting of their abilities - they are no longer the flavored cigarcompany, they are no longer the 2 or 3 country tobacco company, theyhave their feet in many different areas and perhaps are a company tokeep an eye on. Given this focus and an amazing price that only BuyDiscount Cigars can offer - be sure to pick up your box before they areall gone!
Every Cigar Has A Story, Every Smoke A Memory
Customer Reviews





(0.00)

stars out of 5
(Only registered customers can rate)