Humidity 101
One of the most important things about cigars is knowing how to properly maintain those special treats and
Buy Discount Cigars
has the answers! While there is a huge debate out there about the personal preferences in respect to humidor humidity levels, this brief over view will hopefully answer a few questions, aid you in finding your personal preference and most importantly - keep your cigars in top condition for years to come!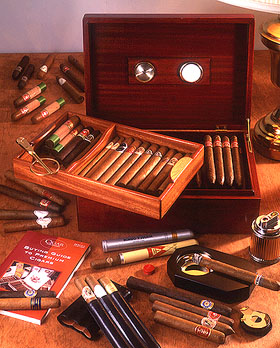 While room temperature is an excellent baseline when considering the ideal temperature for cigars, the upper threshold should be kept under 76-77 degrees to ensure you are not promotion the growth of mold within your humidor - or on your cigars! 68-72 has been found to be an excellent temperature range, while keeping them in the mid 60's has been known to aid in aging of cigars for an extended amount of time.
72% will ensure a higher level of moisture for prolonged
aging - this causes the sugars, ammonia, protein and enzymes to break down at a slower rate encouraging the cigar to become more smooth and 'balanced' in flavor. Almost all 'aging rooms' are kept at 72% - it is the ideal 'breaking point' before you get into mold issues to bring out oils, flavor and 'character'. These are for those who are serious about aging for years - if you decide to smoke a cigar at this high of a RH, expect the burns to be off, flavors to be muted as well as smoke production issues. Great for storage - not great for smoking.
69-71% is where a lot of us keep our cigars when first starting out or a level that some even prefer - it is easier to balance your humidor in the high 60's to low 70's with water pillows, beads or similar humidification devices and this will bring out a few more flavors than 72% but will still keep the cigars semi soft, unlike some of the lower rhs.
65-68% This is my personal ideal range - the cigars are a bit more firm ( not hard, but not at all soft ) and for me - seem to be the range where I get the most flavor/dynamics/complexity from the cigars. Harder to keep at this range but it is well worth the hassle. The burn, flavor and smoke production are usually at their highest point at this RH, but then again personal preference is still key.
60-64% Some people prefer this RH but this is borderline to the 'dry box' status. Lower the RH, the less water - this means it will burn a bit warmer, a bit faster but does not have the moisture to include in the tobacco flavors either. Again, some who enjoy those pepper bombs or appreciate a semi-dry smoke will flock to this RH and be more than happy.
Don't forget - temperature determines how much moisture the air can hold and moving air will hold less than stagnant air. Few have temperature controlled humidors ( large, commercial setups or 'extreme' aficionados perhaps ) but we all need goals- right?
The biggest thing is to ensure that your humidity is consistent - there is nothing worse than trying to remedy an issue or 'dial in' your preference when the RH is swinging 5-10 degrees a week. There are tons of different products out there that will regulate your RH to a specific number as well as gel or water variations that allow a bit more flexibility - all at reasonable prices.
Customer Reviews





(0.00)

stars out of 5
(Only registered customers can rate)