American Club Pipe Tobacco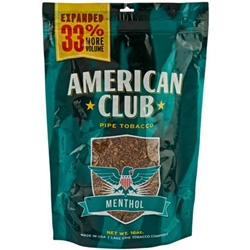 Want Premium Tobacco For A Great Price? Join The Club!
American Club is a budget-friendly line of premium pipe tobaccos sold in resealable, stay-fresh 16 oz bags. This delicious is a blend of Virginia and Kentucky Burley comes in three distinct flavors to fit anyone's smoking preference- Red, Blue, and Green. Try this affordable tobacco with Buy Discount Cigars today at a great low pricend you'll get fresh tobacco for a great low price!