Garcia y Vega Cigars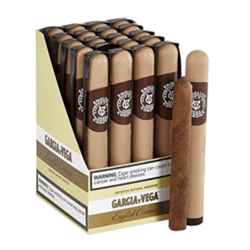 Garcia y Vega's Cigars guaranteed smooth taste and freshness is contributed to their promise that every cigar they make should taste extraordinary. One of the most popular and best-selling machine-made cigars for over 200 amazing years, Garcia y Vega cigars feature great construction and quality along with mellow and smooth classic tobaccos flavor. Enjoy a smooth, luxurious smoke for a price that won't hurt your wallet.
Order from this wide variety of delicious Garcia Y Vega machine-made cigars today and you'll be amazed by our superior customer service, low prices, fast shipping, and fresh cigars!