Sons of Anarchy by Black Crown Cigars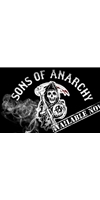 This special edition handmade inspired by the FX award-winning television series, Sons of Anarchy, takes your palate on an exciting, epic ride. New from the makers of Black Crown.
DOH!!!!


WE MADE A MISTAKE SOMEWHERE>> SORRY ABOUT THAT PLEASE PRESS THE BACK BUTTON OR CLICK OUR LOGO!!!!