Cannadips CBD Pouches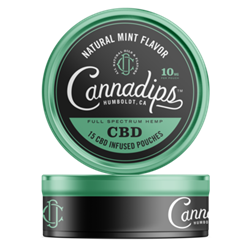 EVOLVING THE DIP EXPERIENCE
Cannadips CBD allows you to live in the moment – 100% tobacco and nicotine free – while enjoying great flavor. These CBD hemp pouches are fast acting, discreet, and all natural. These pouches are crafted with a

unique combination of all-natural, quality ingredients, along with technical innovation to provide one of the best dip experiences available These pouches come in

3 exciting flavors for anyone's unique taste.
Each tin contains 150mg of water dispersible CBD. No THC.

10mg per pouch (150mg total). 15 pouches per tin.